Embracing the connection, Embracing dementia.
Interview with clown, social entrepreneur, trainer and writer Olivier-Hugues Terreault
In August, we had the great pleasure of having Olivier-Hugues Terreault in Oslo for a weekend. He gave a workshop for the clowns in Klokkeklovnene, and some international clown guests that also works with elderly and people with dementia.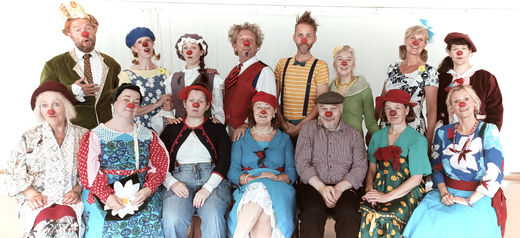 The title of his workshop was Embracing the connection, Embracing dementia.
And it was about how to build playful and meaningful relationships with the elderly living with dementia, through therapeutic clowning. It was a workshop with both theory and practice and lasted for three days.
It was three very meaningful and inspiring days where we learned a lot from this great humble man with so much wisdom to share. So, we wanted to ask him some questions and share it with you so that you also can get inspired and get new perspectives on how to embrace dementia.
Can you give a short presentation for yourself?
I grew up in Montreal. At forty years old, I moved to Rio de Janeiro. And now, at fifty, I live in Montpellier, in the South of France.
I am a Therapeutic Clown. I have studied in contemporary dance, theatre, and clowning (especially with Francine Côté).
I also developed myself as a social entrepreneur and became the co-founder of both Dr Clown Foundation (2002, Montreal, Canada), the most important professional therapeutic clowns' organization in Canada, and of Teatro do Sopro (2012, Rio de Janeiro, Brazil), a ground-breaking project on empathy and social clowning.
I have been nominated as an Ashoka Fellow of the prestigious international network of social entrepreneurs, for my social technology to help communicate with people living with dementia, working through social art to reduce the stigma on ageing, institutionalization, and dementia. Through the years, I became an international speaker, trainer, and writer.
I am also a meditation teacher in the New Kadampa Tradition of Buddhism since more than 20 years. In Montpellier, I am now developing a meditation therapy for people challenged with mood and emotional disorders in partnership with the University Hospital of Montpellier and the World Health Organization.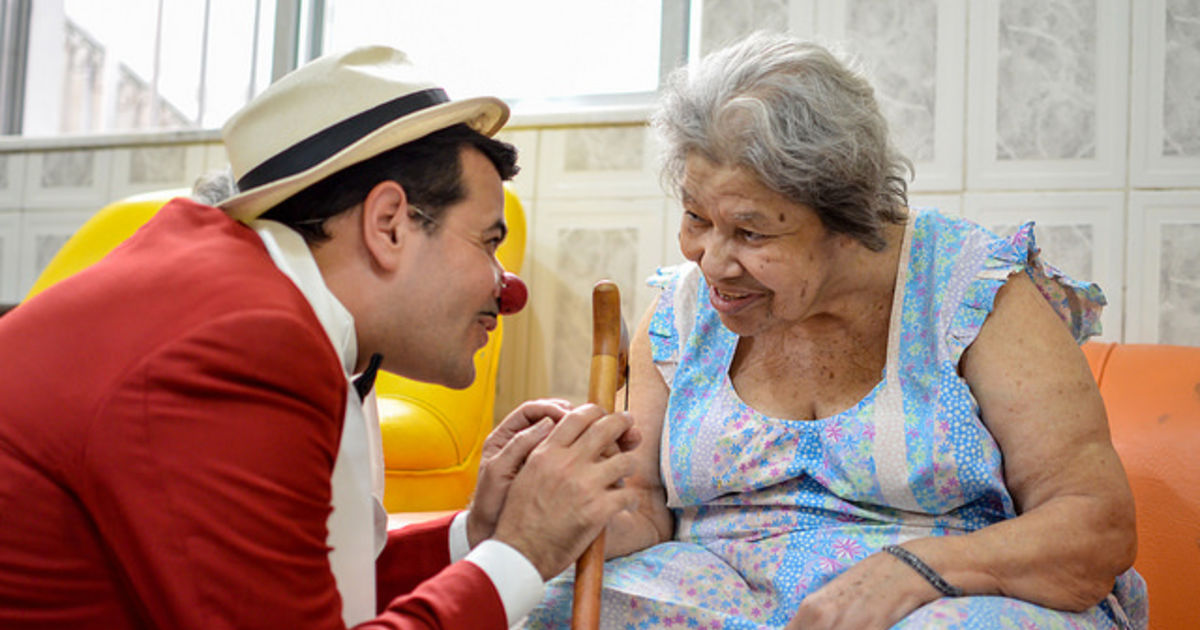 How did you become a clown working in elderly care?
I was always attracted by the clown figure. As a child, I quickly figured out that it was a good strategy for me to make fun of myself in front of everyone before getting bullied.
I started to work as clown when I was fifteen and would always get back to it, despite wishing to succeed in the worlds of more serious dance and theatre. But my clown nature would always draw me back into the playfulness and curiosity of the clown figure.
I discovered healthcare clowning through a radio program in 1999… and knew immediately that I should really do this. I've got contacted by an Elderly Home in Montreal… and they hired me for few first visits… I never knew my grand parents… and wasn't at all in contact with elderly people at that time, even less with dementia. I was quite scared. Finally, at the first encounter, they just touched my heart so deeply… the power of the connection between a clown and an institutionalised elderly was so strong… that I had to see where that path would take me.
A woman who did stop talking for already six months, that wasn't engage anymore, just sitting down, disconnected… got however intrigued by my unusual presence… She even started to play with me, making fun of me… and after laughing and laughing, finally managed to clearly whisper a "Thank you…" It was so powerful. I had to come back and so I did… for the last 23 years… in many countries and elder homes… always rediscovering the same intensity of human connection.
What is the difference between clowns for children and clowns for elderly?
In the larger sense, I don't see much difference: the core of the multiple strategies that are needed are quite the same for the whole spectrum of healthcare clowning, from the infants in incubators to the eldest in palliative care, such as the ways to catch their attention, establish the connection, develop a playful dynamic, let the patient taking care of you, and, finally, taking over the whole encounter, shining and exploring his or her own emotional world. For me, these are the same essential steppingstones of a true encounter…
But I would say that the codes, the rhythms, the metaphors, the cultures to get there are where is the difference… I would propose for example that to play with hospitalized children, our clown needs to react from his or her emotional age of 5 to 10 years old and share the specific actual codes and references of that age: games, songs, tales, movies, comics, superheroes and so on… While that for the elderly, I would propose to reach out to our emotional age of 20-25 years old and use the codes and references of when the elderly were themselves 20 to 25 years… Songs, music, movies, ways of dressing, social and emotional codes, historical events, technologies of the era and so on…
Also, the pace could be quite different… with children we could start with more energy and a playful, highly imaginative dynamic first, and slowly get to a tone of confidence and trust… While the arc might be the opposite with elderly… starting in a much more delicate and slow dynamic and accelerating gradually to propose a more vivid, creative, and festive exchange…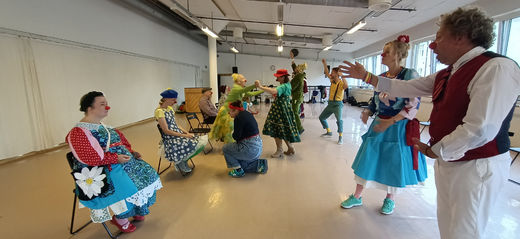 You use the term "Embracing dementia" can you explain what you mean with this?
With "Embracing dementia", I want to share the importance to reinvent our outlook about the people living with dementia.
Of course, while a cure is still to be found, while so much still need to be understood about this complex disease, dementia diagnostic usually represents a horrible condemnation: years as living dead, robbed of what made us a person. A sad, but common preconception, as a society and as individuals, is that there is no more meaning in a relationship with a loved one or with a patient who lives with dementia.
The societal costs are terribly increasing, while for us, individuals, the costs feel greater, holding to our memory of the person in the past, we can feel helpless and lose patience as the sickness progresses. Often, we feel disempowered while we are "disappearing" from the memory of the person we are so familiar with. Our usual communication and affectionate rituals seem lost.
On top of this, a family or professional caregiver, caring for a person with dementia can be draining, exhausting, and frustrating, coping with endless repetitions, seemingly meaningless expressions. Burnout rates are increasing, and quality of care suffers.
But, if we, ourselves, as care giver, could be enriched in our quality of presence, in our curiosity, in the depth of our listening, in our intuition, our playfulness and our natural creativity because of someone with dementia? How would our relationship change? How would this impact us, now being both a care giver and a recipient of care? How could we mature as a society? How could that then change our culture around dementia?
All of us, how could we embrace more deeply, as a life changing experience, what we are receiving from the person living with dementia… and make that person feels it?
How does clowns work in meetings with people with dementia?
For me, and many others, the clown is the archetype of resiliency.
Resiliency can be reduced to the capacity of going through strong pressure without breaking… but in modern psychology, it also took the meaning of being able to develop oneself through adversity.
A clown is always going through problem and crisis, failure and humiliation… and it is ok. It is his or her strength. As the clown is, by nature, deeply resilient. Always losing, but always going through it. Therefore, I understand that his or her presence is so important in a healthcare context to call upon the resilient nature of all the patients and caregivers. The clown embodies for everyone this resilient nature we all share.
I also understand the clown then as the person that cannot save anyone, but that can be saved by everyone. The clown can always be in a worst situation than anyone else and, so, be the object of compassion of anyone. A hospitalized child can start to take care of his or her clown figure, helping him or her just with a simple task as managing to leave the room without making a mess! The clown inverts the situation: the child is now the one taking care of… bringing out the compassion of the kid, he or she can become more resilient: "I need to get better because I count in other people's lives, like for that helpless clown!"
With people with dementia, we can quickly start to have pity for them, and try to do everything for them… which can confuse them even more and bring out any wish to be involved. Being frustrated by his or her daily "failures", the person with dementia will prefer to withdraw from others, and even life itself. The clown doesn't have any problem with them failing to remember, to speak coherently or just to pick a glass… even can celebrate this! The clown can continue to challenge the person with dementia: taping in their potential instead of mirroring a pitiful image. At the opposite, the clown is helpless and needs the emotional experience of the person with dementia. The person with dementia can be of use for the clown, taking care of him or her… Feeling needed still and able to contribute to the community, the person with dementia can then wish to continue to live, to learn, to be challenged and to challenge.